WE ARE HERE TO SERVE YOU AND BE YOUR PLUMBER FOR LIFE!
All our work is 100% guaranteed. Plumbing problems will hit you like a ton of bricks at any moment and create an emergency plumbing problem. Homeowners and businesses will, at some point, have to call a plumber. When the time comes and you need a plumber in Eastvale, we are here to serve you 24 hours a day 7 days a week. We understand you have many plumbing companies in Eastvale to choose from. Be sure to do a little homework and verify that they are licensed, reputable plumbers in Eastvale that offer warranties on the work they perform. All of our work comes with a warranty. Option One has you covered.
Contractors License # Lic 934096
24-HOUR EMERGENCY PLUMBING SERVICES IN EASTVALE
Option One Plumbing Service in Eastvale is prepared to service your home or business with professional, affordable plumbing service. We have been offering emergency or preventative maintenance plumbing service in Eastvale for over twenty years. If you need a dependable plumbing service in Eastvale, 24/7, we're just a phone call away. Same day service, 365 days a year.
PLUMBING SERVICES IN EASTVALE
We offer a wide variety of Plumbing Installation & Repair Services. Our tested and trusted plumbing service in Eastvale and its surrounding areas have been counted and depended on for years.Whether it is a simple drain cleaning, toilet repair, or a water heater service, Option One plumbing techinicians are fully trained to get the job done right. Our technicians also specialize in the latest plumbing technologies from trenchless sewer line repair to electronic leak detection. Fast, affordable, dependable and honest plumbers in Eastvale, that is Option One.
WE PROVIDE THE FOLLOWING PLUMBING SERVICES IN EASTVALE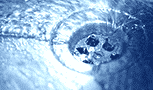 We have been cleaning drains in Eastvale for over two decades. The most common drain clogs are kitchen sinks and main drain sewer stoppages, we have seen it all, and can take care of any clog you have. Most people don't know there are several ways to clean a drain. Some homeowners will rent a drain snake in Eastvale not knowing that we will clean your drain and provide you with a warranty for around the same cost!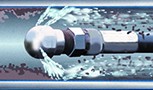 Option One Plumbing & Rooter is now offering commercial hydro jetting in Eastvale to our residential customers. Our process utilizes high-pressure water to effectively cut tree roots and emulsify grease. Sewer jetting is the application of streams of high-pressure water for use within pipes for cleaning & debris removal. Our experienced hydro jet plumbers in Eastvale are local experts and all of work comes with a warranty.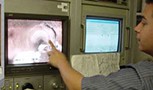 If you are having difficulty with a drain and you need a certified sewer camera technician in Eastvale, don't hesitate to give Option One a call. We have dozens of technicians that are trained and ready for any sewer problem that you might have.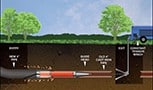 We have the ability to replace your sewer line without destroying your yard or driveway by digging the old, traditional way. When you re-line your sewer, it eliminates all cracks, leaks, holes or roots that may be causing trouble to your system. Option One Plumbings is your #1 plumber in Eastvale for all of your sewer line fixes.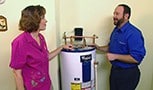 Option One Plumbers in Eastvale do installs, repairs, or replacements of all types of water heaters including electric, natural gas, propane, and tankless for both residential and commercial uses. We are your local water heater Eastvale experts and have been servicing water heaters for decades.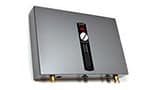 Tired of running out of hot water while taking a shower? Installing a tankless water heater in your Eastvale home might be the right solution for you! We have been installing tankless water heaters in Eastvale for decades. Tankless water heaters are more energy efficient than traditional tanks because they heat water as it is used, rather than heating and re-heating water in a storage tank..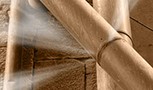 If you have a water leak in your Eastvale house or business, or if you are experiencing any other problems, just call our toll free number to get professional help. Option One plumbing in Eastvale can take care of your water problem any time of day. Call us to schedule an appointment for your water leak repair.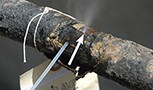 If you have a gas leak in your house or business, or if you are experiencing any other problems, just call our toll free number to get professional help. Option One plumbing in Eastvale can take care of your gas leak problem any time of day. Call us to schedule an appointment for your gas leak repair.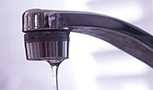 Experiencing low water pressure problems? Low water pressure in Eastvale is a frustrating issue. Our experienced local plumbers in Eastvale have years of experience fixing low water pressure problems. Call us today to get your Eastvale low water pressure problem fixed today at a price that is reasonable and with service that is dependable and.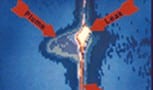 Do you think you have a water leak in your house or business in Eastvale? Does your floor feel hot? Have you noticed an unexpected increase in your Eastvale water or gas bill? Our plumbers in Eastvale are experts in the latest electronic leak detection technology.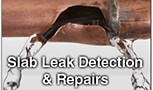 We have been fixing slab leaks in Eastvale for decades. A common plumbing problem in Eastvale is when there is a leak under the floor and you may find a hot or warm spot in you home. Plumbers refer to this as a slab leak because it usually occurs under a slab of concrete, whether it's a sidewalk, patio, or a leak under the foundation.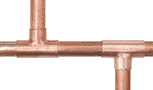 Are you worried about the corrosion in your plumbing or have you had leaks in the past? Option One Plumbing in Eastvale offers affordable solutions to re-plumbing your home with copper or alternatives that exceed todays standards and last longer. If you are looking for an experienced repiping plumber in Eastvale, look no further.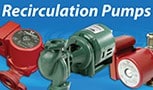 Do you need a Hot Water Circulating Pump for your home in Eastvale? This system can deliver hot water to fixtures quickly without waiting for the water to get hot. Rather than relying on low water pressure common in most water lines, recirculating systems use a pump to rapidly move water from a water heater to the fixtures.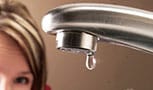 Do you need a bathroom faucet in Eastvale? Do you need a kitchen faucet repair in Eastvale? A dependable faucet repair in Eastvale use to be hard to find. Not anymore. An Option One plumber in Eastvale is your local expert in all types of bathroom or sink faucet repairs and faucet installation in Eastvale.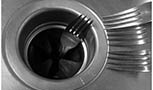 Do you need a reliable, honest plumber to fix your garbage disposal in Eastvale? Option One Plumbing is the plumbing service to call if you need a dependable garbage disposal repair in Eastvale. Our work is guaranteed and done by local plumbers in Eastvale Call us today to schedule an appointment.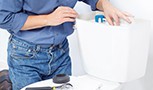 Do you need your toilet repaired or fixed in Eastvale. Do you have a toilet leak in Eastvale? We repair, replace and install all types toilets. Option One is your #1 toilet repair plumber in Eastvale. With over 20 years of experience, you can count on Option One Plumbers to repair your toilet in Eastvale right the first time.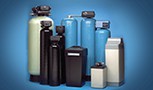 Do you want safer, softer, cleaner, better tasting water? That's what you'll get with a whole-house water treatment system. Option One Plumbing is who you call when you need a water softener system repair or Install in Eastvale.