Phoenix Arizona Water Leaks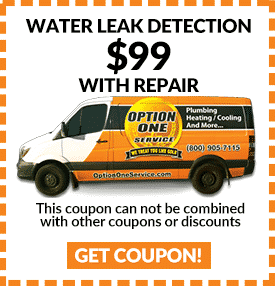 Water Leak Repair Plumber In Phoenix, AZ

Water damage is one of the most common reasons people make claims on their home insurance. Burst pipes, leaky washing machine hoses and flooded basements often lead people to their home insurance policies. Are you covered? You're likely to be covered in most cases if you have the proper coverage, some are not covered because most people lack maintenance on their plumbing and the insurance adjuster will find a way to deny your claim if your plumbing is not maintained. It's important to keep your plumbing in good shape or buy the proper coverage in-case you discover a damaging water leak at some point in time. We can find and fix the leak and our Water Damage cleanup team can put your home back together. If you have a water or gas leak in your house or business, or you are experiencing any other plumbing problems, just call our toll free number to get professional help. We can take care of your water leak problem 24/7. Call us anytime to schedule an appointment for your Phoenix water or gas leak repair.
CALL FOR SAME DAY SERVICE (602) 252-4240
How To Prevent Water Leaks In Phoenix
The first thing you need to know is the location of all emergency shut off valves. The most important one is the main water shut off valve to your home or business. You need to inspect each shut off valve annually to be sure that it is in working order. Most people know it should be done but rarely do the annual inspection. Test each valve in your home by shutting it off and turning on the fixture to see if it actually works. If the valve does not shut off the fixture, we recommend that it be replaced or you run the risk of major damage when the time comes in an emergency situation. Warnings like water stains on the ceilings or a leak under the kitchen sink can lead to real problems. A burst pipe can damage your furniture and other personal possessions, and flooding can quickly lead to costly repairs. In some cases it's better to do a Copper Re-Pipe instead of doing a spot repair.
Sometimes the source of the leak is obvious (like a bathroom faucet leak, shower leaks, or a leaking kitchen sink). Other times the leak may be out of sight, like a water tank leak or a basement water leak. They can even be completely hidden, as in a leaking water pipe in your walls or under your concrete slab.
Option One plumbing are experts at finding your leak before extensive damage to your home takes place. If you think you might have a water leak or gas leak in your Phoenix home, call the professionals at Option One. We utilize the latest in leak detection technology to find your leak, fix it quickly, and repair it right the first time… all at an affordable price.
What To Do If You Have Water Leaks
The first thing to do is shut off the water to stop any damage that may accrue. Once the water is off, give us a call to make the repair and clean up as much water as soon as possible. The reason you need to clean up the water and dry out anything wet is MOLD, mold is dangerous and can grow in a short period of time. If you hear water running but can't see any water, check the water meter for any movement. The water meter is located near the curb at most homes, if you put a small mark with a marker where the dial is, wait ten minuets or so and see if the dial moved, if it moved and you did not run any water, you may have a water leak underground. This will require us to perform a leak detection and one of our technicians will provide you with the most cost effective option to repair your water leak.
What Causes Water Leaks In Phoenix, AZ
The cause of most water leaks come from corrosion, seismic activity, improper installation and cheap material. More frequently, water leaks that damage most homes come from a water supply line to a fixture for one of two reasons:
One, it's worn out and weak or
Two, the pressure is to high.
Most people don't realize how important a pressure regulator is but it is one of the most important pieces of the plumbing puzzle in your home. The best way to explain it this: if you went to the doctor and you have high blood pressure, the doctor will regulate the pressure to avoid other problems. The pressure regulator is the same thing as the medication you would receive. If you don't regulate the water pressure, it will cause other problems such as water leaks from pipes, supply lines, washing machine hoses, running toilet, faucets and showers dripping etc. The same thing goes for gas leaks, if you have any symptoms such as the ones listed, give us a call and we will stop by and test your pressure for free. Call your local PHOENIX PLUMBER today!
CALL FOR SAME DAY SERVICE (602) 252-4240