CHARLOTTE'S Dependable PLUMBER
Option One is ready to help you on your next plumbing project. Whether you are looking for hot water heater repair or tankless water heater installation let us be the team you call. We specialize in trenchless sewer repair, hydro jetting, and french drains. If you are looking for a dependable plumber in Charlotte who is licensed and insured, give us a call 24 hours a day, 7 days a week. We are the top rated local plumber near you.
CHARLOTTE'S AFFORDABLE PLUMBER
Our tested and trusted plumbing services in Charlotte, NC and its surrounding areas have been counted and depended on for years. Option One technicians are fully trained to get the job done right. Our technicians are also knowledgeable in the latest plumbing technologies from trenchless sewer line repair to electronic leak detection. Fast, affordable, dependable and honest plumbers in Charlotte, that is Option One.
Drain Cleaning
Starting at $68
Take advantage of the best price in drain cleaning in Charlotte. Our plumbers will run a cable line to clear any clogged drains and run a camera to make sure your drain clog is gone! If that doesn't clear it, our hydrojetting services will be sure unclog your drain. 
Hot Water Heaters
including Tankless Water Heaters
Is your hot water heater leaking or taking too long for hot water? We offer affordable water heater service for regular and tankless water heaters. Give us a call today for your water heater replacement or installation. 
Plumbing Services
Trenchless is our Specialty
Are you looking for honest plumbers near you? We take pride in providing affordable plumbing solutions from pipe lining, pipe bursting, water softener installs, garbage disposal installs, and more! If you have low water pressure in your house, we can diagnose and repair the cause.
Leak Detection
From Slab Leaks to Gas Leaks
We can take care of all of the leaks in your home. If you have a toilet leaking at the base or think you have have a cracked pipes, we can resolve it. We train our techs the best equipment for leak detection to quickly find your gas line leak or water line leak.
No Social Media? No Problem
Review us on your favorite site
Want to see more Reviews?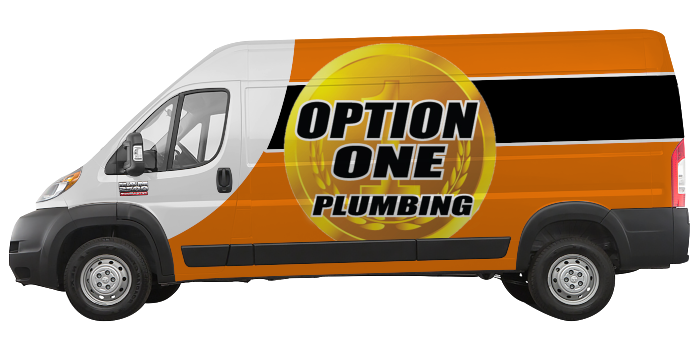 your premier residential plumber in charlotte
All our work is 100% guaranteed. Plumbing problems will hit you like a ton of bricks at any moment and create an emergency plumbing problem. Homeowners and businesses will, at some point, have to call a plumber. When the time comes and you need a plumber in Charlotte, we are here to serve you 24 hours a day 7 days a week. We understand you have many plumbing companies in Charlotte to choose from. Be sure to do a little homework and verify that they are licensed, reputable plumbers in Charlotte that offer warranties on the work they perform. All of our work comes with a warranty. Option One Plumbing has you covered.
TRENCHLESS SEWER REPAIR SPECIALISTS IN CHARLOTTE
If you are looking for a permanent solution to your sewer problem, you can count on Option One. We have access the industry's leading trenchless technology. Save time and money and don't dig up your entire front lawn. No dig sewer repair is easy and affordable with Option One.
24 HOUR EMERGENCY PLUMBER IN Charlotte
Option One Plumbing Service in Charlotte is prepared to service your home or business with professional, affordable plumbing service. We have been offering emergency or preventative maintenance plumbing service in Charlotte for over twenty years. If you need a dependable plumbing service in Charlotte 24/7, we're just a phone call away. Same day service, 365 days a year.